If Adulting Includes a Road Trip From Hell, Our Move to Cali Checks That Box
My boyfriend Ian and I had been saving, researching and preparing for our cross-country road trip for the move to Los Angeles, California. We had a moving checklist and our plan was set. Now was time for the execution. Step one: move out of College Station.
I'll save you the sap and just say it was bittersweet. The amount of maturation we both acquired there individually, as well as in our relationship, was immense. Now we were finally on our way to hardcore "adulting," or so we thought.
Check Out the Lead Up to Our Move to California:
California Dreaming: Moving Out of State and the Warning Signs I Ignored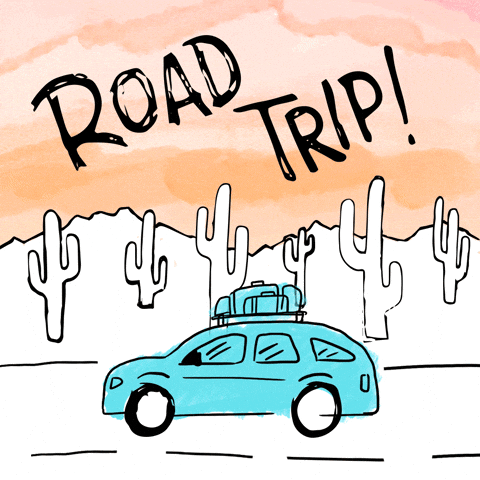 Moving is a pain in the butt as anyone who has ever relocated knows. Ian had to be out of his house first, so one day was dedicated to clearing out his house. A couple of days after was dedicated to clearing out mine. We also worked as many shifts as we could up until the very last day of residing in College Station; anything to get more Cali money. So lack of sleep and stress made for a great well-mannered packing experience for the both of us! (Did you pick up on the sarcasm?)
Road Trip Planning Fails of a First Timer
After leaving College Station, we lived with our parents for a couple of weeks. We rented a U-Haul, shipped my car, and planned the road trip to California. I was really excited to road trip. Something about being on the road with my significant other and our dogs with everything we had to our names, packed in the little trailer behind us, driving off into the sunset struck me as, I don't know, romantic. This trip was not. This trip was not even fun. Road trips are not fun. If you like road trips you are of a stronger species than me.
When we had calculated our route it came out to be something like 1,600 miles away. We had planned to stop once in New Mexico and once in Arizona. Three days total of driving. And for some reason, we thought, it would be real swell to knock out the entire state of Texas in one day. My boyfriend drove 14 hours straight. I don't think I need to emphasize how long that is or iterate how many doggie stops that included. I commend him for that but yikes.
Something that did not occur to either of us was we needed to book our hotels in advance. So when Siri said "you have arrived," we hopped out of the truck and went into the hotel to get a room. We got denied because we had the dogs. We were denied at basically every hotel in Albuquerque. If you ask me it seems counterproductive of the hotel industry to deny a customer of a room, when that is literally the only reason hotels exist, but what do I know about the hotel industry. Nothing apparently! Lack of sleep and lack of patience contributed to Ian and I majorly butting heads. He had given up. We were either sleeping in the truck in a parking lot or we were going to continue on driving. Quite frankly I didn't want to deal with a grumpy, tired boyfriend so I tried to channel the universe to give me one stroke of luck and called one last hotel. I like to think that being born on St. Patrick's Day grants me the ability to muster up luck when I need it the most and my theory has yet to be proven wrong.
Finally, we found a hotel that would accept us and the dogs. This was the only one in Albuquerque! Of course we had dogs, which does add complications to traveling but still. Side note: If you are ever in a bind, traveling with dogs, and need a room with ten minutes notice, go to a Best Western. Their fee for dogs is reasonable and the room was clean.
Moving + Road Trip + Planning Mistakes = Adulting is Hard
The next morning, we knew we had to be smarter and book the room in advance. So we made a reservation in Phoenix. Ah Phoenix. I don't think I will ever have the desire to go back to Phoenix. Now obviously there are bad parts of any city. There are certainly parts of Houston and Los Angeles, for that matter, that I wouldn't dare set foot in. Basically we stayed in an undesirable part of Phoenix.
Our room was filthy. The peephole of the door was covered so no one could see in, there was dried blood splatter on the walls and floors of the bathroom. My dog was on edge the entire night, and I didn't even want to get under the covers in fear of catching something.
We went to a drive through for dinner and witnessed three separate drug deals take place in the parking lot. Not really a place one would want to find themselves in. But we had already paid and didn't really have money to spare to we roughed it out in Phoenix. After a sleepless night on my part we started our last day of traveling.
Ian and I had a few arguments and were honestly sick of each other. So, yeah, this day was fun. We were driving through the desert in silence until I realized we totally forgot to set up our utilities for our new apartment. That sparked another brief argument, but I got on the phone and made some calls.
Making phone calls in the middle of the desert is honestly hit or miss. It took me three or four times until I was able to finish the whole process without the call being dropped. So $500 in security deposits later we were set up. Finally getting to California was like a giant sigh of relief. Getting to our apartment was like a tsunami size wave of relief. What I have learned from this entire experience is that you need to plan. I don't care how "spontaneous" you claim to be. Some sort of planning needs to take place before traveling, especially on a road trip.  Besides planning hotel stays, make sure the areas you are staying are safe. It's not hard to look up the crime rate online. Utilize the technologies of today!!
Moving is Off the Checklist. But Adulting is About to Get Real.
On a positive note—we made it. Now the California dream could begin. We were happy and loved each other again after our long voyage. Getting all of our belongings into the apartment was actually fun. We were full of hope and saw our new life beginning to take shape right before our very eyes. And honestly you can't help but feel a little cool saying "yeah, I live in los Angeles." It was official. The best was yet to come. If only I could go laugh at myself in the face. This was the best moment California gave us. If only I knew.
Tools to Help You Save for Your Move to a New City—and Plan Your Road Trip
Preparation is everything when you are moving between states to a new city; that includes saving for both the moving and road trip expenses to get there. When planning your road trip, having your hotels booked ahead of time can not only save money, but helps you stay on schedule.
LifeSteps is a free mobile app from PrimeWay that not only lets you book travel plans and save on hotels, but gives you a mobile wallet to keep your receipts organized, shop and finding restaurants. LifeSteps is available to anyone, and can make your move or road trip a dream.
---
More Articles in the "Get a College Degree They Said" Series:
My Life After College and the Challenging Journey to Adulting
If Adulting Includes a Road Trip From Hell, Our Move to Cali Checks That Box
Adulting Tip: If Moving to a New City Without a Job, Know How to Budget Your Savings
The Struggle of Finding a Job After College…and Other Life Lessons in Cali