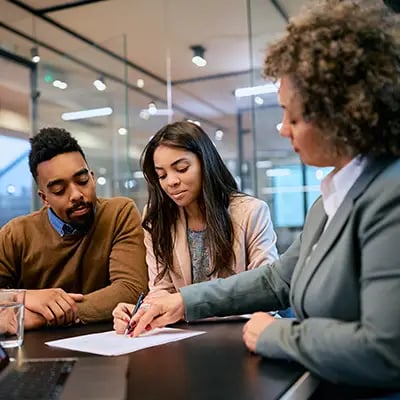 PrimeWay Has Many Options for Your Business To Get Up and Running
With flexible options, get the money you need to start and grow your business. Let our experienced business team help you with your business journey.
SBA Microloans
A smaller-scale loan, SBA microloans are designed specifically for startups. The microloan program aims to reach lower-income communities and businesses that traditional lenders usually overlook. Unlike other SBA loans, the SBA is a fully funded microloan and typically requires some form of collateral.

To be eligible for an SBA microloan, you must meet these requirements:
Be a startup or early-stage business

Be a for-profit business or qualifying child care center in the U.S.

Provide collateral to secure the loan

Provide a personal guarantee of repayment

Meet credit score requirements

Have a defined purpose for the loan
An SBA microloan provides businesses with a maximum loan of $50,000 with repayment terms of up to 6 years. Typical uses include working capital, inventory, supplies, furniture, fixtures, machinery, or equipment.
SBA Disaster Loans
As the name indicates, SBA disaster loans are available to businesses that have been affected by a declared disaster. Funds can be used for repairs, replacement of working equipment, and working capital. Unlike other SBA loans, businesses of all sizes and non-profits are eligible for SBA disaster loans.
To be eligible for an SBA disaster loan, you must meet these requirements:
Be a business or non-profit organization located in a disaster area and have incurred damage during the disaster

No ability to obtain credit elsewhere
SBA disaster loans provide businesses with up to $2 million, with up to 30 years of repayment terms. Common uses include repair or replacement of real property, machinery, equipment, fixtures, inventory, and leasehold improvements.
Boost your business with PrimeWay's diverse SBA loans, from 7(a) to 504 and microloans. We'll be able to guide you to the perfect solution for your needs.
How to Choose the Right SBA Loan for Your Business
SBA loans have rates and fees that can make them more attractive to small and early-stage businesses. However, they have certain qualifications and eligibility requirements. Before applying for an SBA loan, consider the amount of money you'll need and the intended purpose of your loan. For example, only 7(a) loans and 504 loans are used for real estate purchases. While microloans have significantly lower loan amounts, they have minimal requirements and can be a way to get financing when other options aren't available. Other vital factors to consider include interest rates and repayment terms.
The best way to learn more about available SBA loans is to talk with a local lender approved to administer SBA loans. To determine what type of loan is right for your Houston business, reach out to the financial experts at PrimeWay. We can help you explore options from SBA loans to traditional business loans or lines of credit to meet your business needs. With flexible options and competitive business rates, you can get the financial support you need to start, grow, or operate your business.