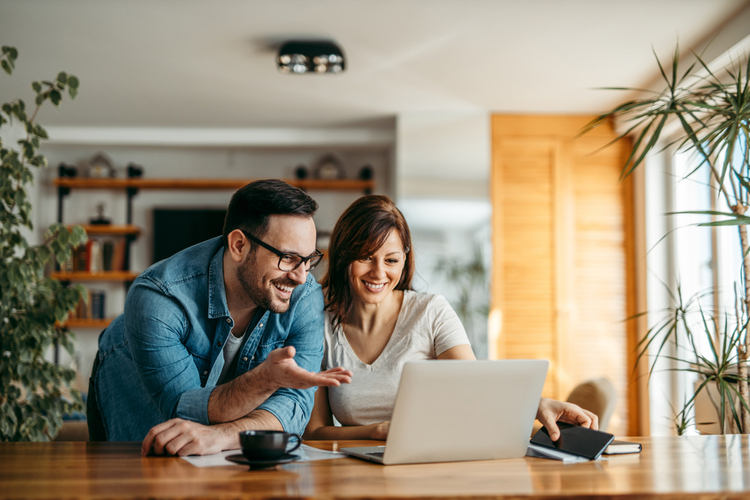 Shop Safely with a Digital Wallet
Shopping online or in person can be risky. If a store's data is stolen, your credit card and identity could be compromised.
You can stop worrying about that with a digital wallet. Using a digital wallet is easy and secure. Every transaction has our 24/7 fraud monitoring and Zero Liability protection, just like our credit cards.
What Are the Benefits of a Digital Wallet?
Convenience & Ease of Use
Pay for your transactions anywhere that accepts a digital wallet payment – just look for the contactless symbol in stores.
You can also consolidate gift cards and coupons in addition to adding all of your credit cards to your digital wallet – which means no longer needing to carry physical cards that take up space, and provides an additional option in case you lose or misplace your gift cards and coupons.
The speed of transactions is another feature that makes digital wallets so convenient to use. For instance, if you are at a concert, and the venue accepts Apple Pay, you can pay for your drinks, food and concert merch without reaching for your wallet – instead, you just need your smartphone or smartwatch.
With your digital wallet set up, your mobile device will both verify your identity and you just hold your smartphone or smartwatch to the contactless terminal. With a transaction that fast, you won't miss a beat.
Safe and Secure Data
Digital wallets protect banking information in the event of theft. With encrypted account information, no thief can grab your purse and use your money, like they might with credit cards or cash. If your mobile device is stolen, a thief would still not be able to infiltrate your account, because they would need either your fingerprint or your passcode to gain access to your digital wallet.
Pay Without Carrying Your Cards
Some of us who are used to carrying around everything we might need look a little like Mary Poppins at a checkout counter – holding up the line behind us while we pull out every card and forgotten paper receipts we've collected, just to find the debit card we want to use to pay for what we shopped for.
By storing your account information and your ID into your digital wallet, you no longer need to carry around your whole wallet. Think of how much time you would save by not needing to search for your cards at checkout. You could also use your digital wallet in case you forget your card or ID at home.
Carrying a wallet full of coupons, ID and credit cards is the old way of being prepared for transactions.
Digital Loyalty Rewards Programs
More merchants are offering rewards to customers who pay for transactions using their digital wallets. You get benefits that plastic loyalty rewards cards give you on purchases, only without carrying around the card itself or a key fob.
Purchase Online or In-App
As the adoption of digital wallets has grown, many merchants allow you to use them when shopping online or in-app. When you are ready to checkout, just look for your digital wallet logo to make your digital payment.
You can also utilize Mastercard® Click to Pay for your PrimeWay debit and credit cards in addition to any of your other cards. With Masterpass, you'll be able to store all of your payment and shipping information, so it makes online shopping a breeze on any device.
A digital wallet is secure, easy to set up and makes it convenient to pay with your card of choice. Best of all, a digital wallet is already available to start using on your mobile devices—you just need to add your payment cards and reward cards. For more information on how to make your debit account work faster for you, contact PrimeWay Credit Union to learn more about mobile banking.